Language Based Exercises in Hindi for Speech Therapy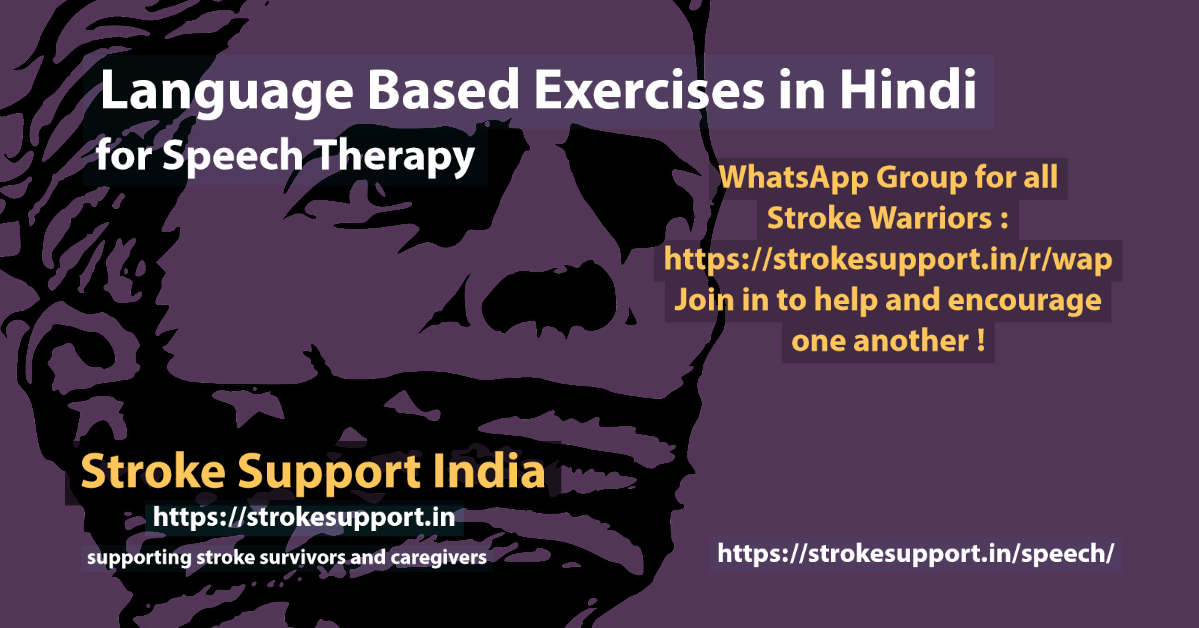 Speech related issues ( such as Aphasia) are a very frequent consequence of a stroke.
With consistent efforts of the Stroke Warrior and his /her family as well as good therapy , the problems can be alleviated.
Unfortunately, however, practice texts for Indian languages such as Hindi that may help in such therapy are hard to find. Hence an exercise book of Language Based Exercises in Hindi can be a strong help. Here is one prepared by Aphasia and Stroke Association of India. It contains a series of exercises for Hindi speaking therapists, caregivers and stroke survivors.
All stroke warriors handling speech related issues are welcome to read here itself, or download from this link.
Language-Exercises

We hope any visitor here finds above useful. If you have any useful and free Stroke recovery related help-books, guides etc. that may be added here, please provide the link in the comments or contact us via the Contact page.
HELP TRANSLATE THE EXERCISE BOOK : All help in translating the book in other local Indian languages will be highly appreciated. If you can help, please contact via the Contact page. Thank you !
More information about Aphasia in Hindi language is available here. It explains various aspects such as : types of Aphasia, its symptoms, underlying causes and risk factors, diagnosis, treatment and complications.
Join other Stroke Survivors, Caregivers and equipment/service providers for encouragement , knowledge sharing and most importantly – hope – via:
Whatsapp Group: https://strokesupport.in/r/wap
Telegram Group : https://t.me/strokesupportgroup
Telegram Channel : https://t.me/strokesupportin
Linkedin : https://www.linkedin.com/company/stroke-support
Facebook Page : https://www.facebook.com/strokesupportindia
Facebook HINDI Page : https://www.facebook.com/strokesupporthindi
Facebook Group : https://www.facebook.com/groups/strokesupportindia
Twitter : https://www.twitter.com/strokesupportin
Instagram : https://www.instagram.com/strokesupportindia
Pinterest : https://in.pinterest.com/strokesupportindia/
YouTube : https://www.youtube.com/c/StrokesupportInIndia