Step by step…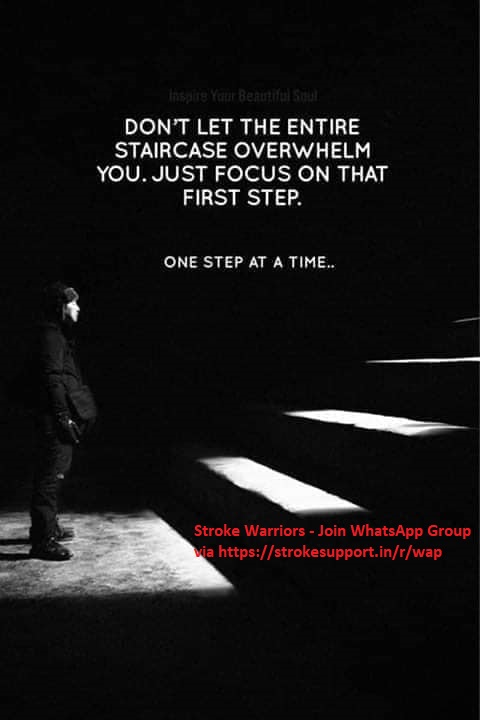 Don't let the entire staircase overwhelm you. Just focus on that first step. One step at a time..step by step….
Stroke recovery is highly dependent upon persistence, patience and determination. Not only for the Stroke Warrior but all the family members around him / her. Encouragement and motivation play key roles.
Have thoughts that motivate you in your Stroke recovery ? Please put them in the comments hereunder- or join in the WhatsApp group to share with a community of Stroke Warriors undergoing similar struggles- and having achievements – to keep you inspired upon your journey !
Join other Stroke Survivors, Caregivers and equipment/service providers for encouragement , knowledge sharing and most importantly – hope – via:
Whatsapp Group: https://strokesupport.in/r/wap
Telegram Group : https://t.me/strokesupportgroup
Telegram Channel : https://t.me/strokesupportin
Linkedin : https://www.linkedin.com/company/stroke-support
Facebook Page : https://www.facebook.com/strokesupportindia
Facebook HINDI Page : https://www.facebook.com/strokesupporthindi
Facebook Group : https://www.facebook.com/groups/strokesupportindia
Twitter : https://www.twitter.com/strokesupportin
Instagram : https://www.instagram.com/strokesupportindia
Pinterest : https://in.pinterest.com/strokesupportindia/
YouTube : https://www.youtube.com/c/StrokesupportInIndia