Events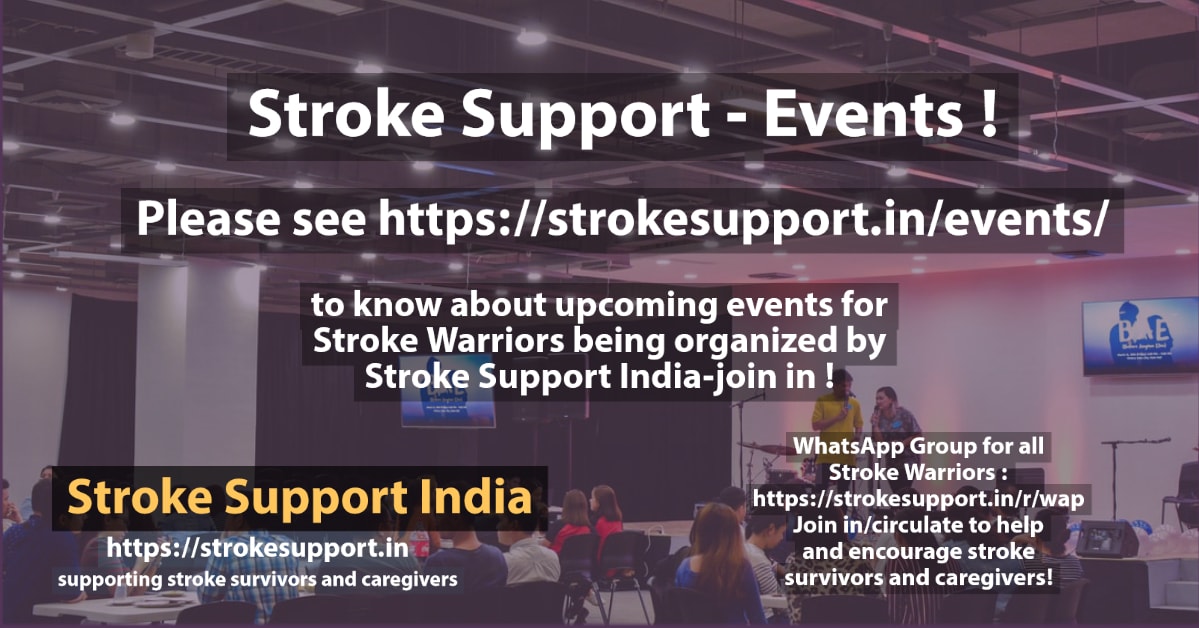 This page gives relevant details of events – online or offline- organized by Stroke Support India.
Upcoming Webinar(s)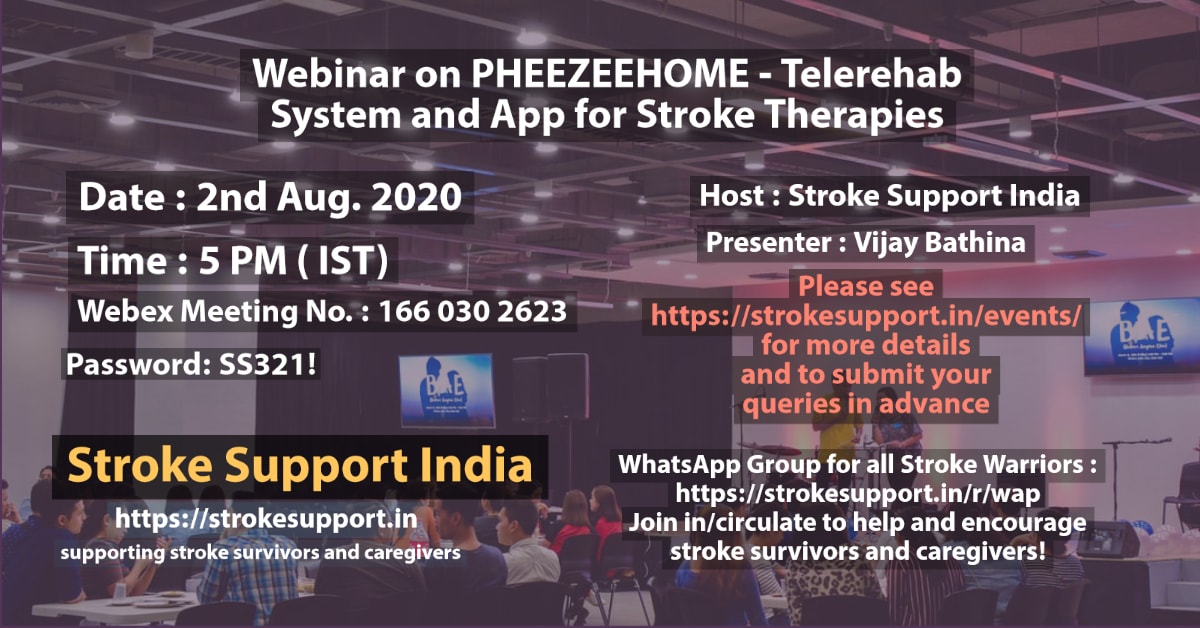 Webinar on PHEEZEEHOME – Telerehab System and App for Stroke Therapies
This Webinar / meet will be held on Webex per following details :
Schedule : 2nd August 2020, 5 PM ( IST)
Meeting link: https://meetingsapac26.webex.com/meetingsapac26/j.php?MTID=m5c07bab7630fc3a75c8563fc8ccf3a8e
Meeting number: 166 030 2623
Password: SS321! (773210 from video systems)
Presenter : Vijay Bathina
Please download and circulate a flyer for this event from here. Thank you !
Vijay Bathina is a Stroke rehab therapist with about 13 years of stroke physiotherapy expertise. Along with his colleagues he has developed a Telerehab System ( and corresponding mobile application ) focused on therapies for stroke.
The Webinar will have a demo of the system and a short Q&A session thereafter.
An app based platform for rehabilitation of Stroke patients via Voice or Video calls and Videos
Consult therapist remotely on your mobile
Exercise sessions customized to the patient's needs
Consolidated reports and feedback – daily, weekly and monthly
Guided therapy sessions
Tracking of patient's adherence and progress
Information for the patient's caregiver as well.
Large and growing pool of therapists : Speech, Physical, Psychological, Rehab and Occupational Therapists
Very economical
Submit your queries for this and future Webinars ! :
Queries submitted via form herein in advance will be attended to first. Also, you may use this form anyway to leave your E-mail id to be informed about future events. All your feedback for any of our event you attended, suggestions, and presenter references for similar events/meetings to help stroke warriors may also be provided herein. Thank you !
Want to help us by presenting a Webinar ?
If you would like to help stroke warriors by presenting a Webinar, please put your details hereunder and mention so in the Query box. We will revert to you. Thank you very much !
Past Webinar(s)
Webinar on Mini Strokes/ Transient Ischemic Attacks ( TIAs) on 21st June, 2020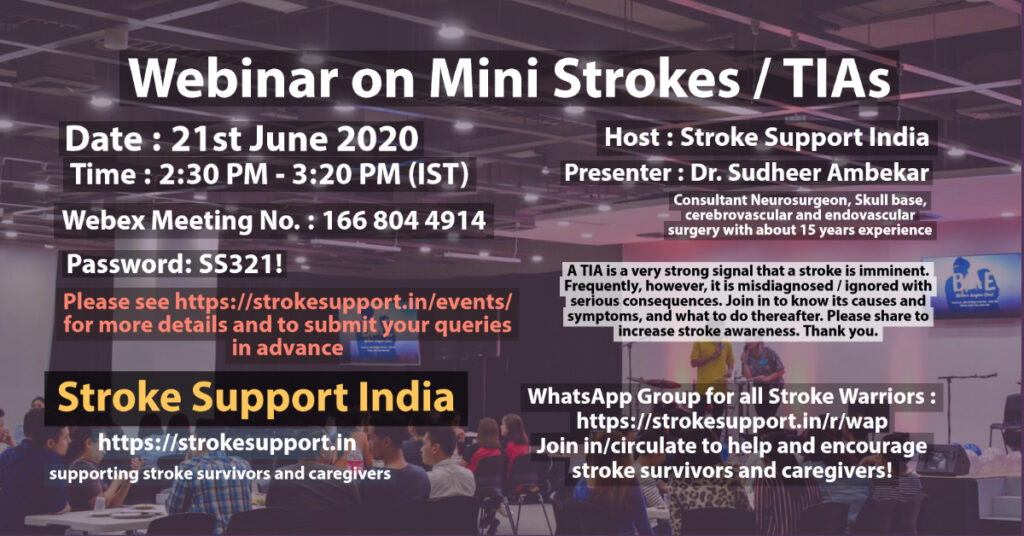 A mini stroke is never to be ignored since it may have serious consequences.
The Webinar was presented by Dr. Sudheer Ambekar who is a renowned Consultant Neurosurgeon, Skull base, cerebrovascular and endovascular surgery with about 15 years experience including in Jaslok Hospital and NIMHANS. Presently he is associated with Lilavati Hospital , Mumbai.
This Webinar / meet has ended. Thanks to all the participants and to Dr. Sudheer Ambekar for the efforts. It was an interactive Webinar and the participants carried back useful learnings.
Webinar on Aphasia on 7th June 2020
Aphasia is a frequent complication of a stroke, although it may also be due head trauma, brain tumors and infections. It affects comprehension, speaking, reading and writing in different manners. The brain holds the words hostage, as is sometimes said. As can be readily understood, aphasia is a very distressing situation for both the stroke survivor as well as his/her family. A Speech Language Pathologist ( SLP ) is trained to detect and treat aphasia.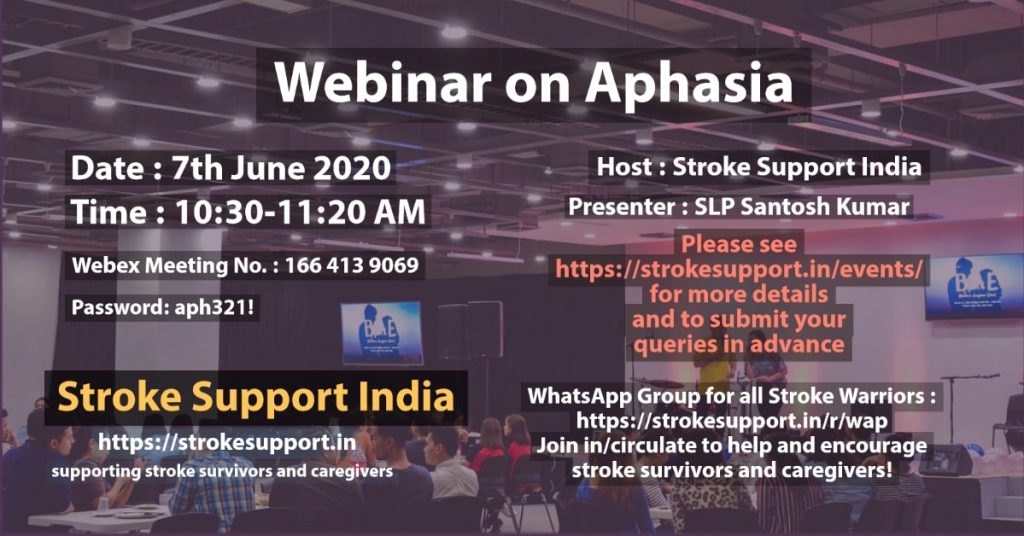 This Webinar / meet has ended. Thanks to all the participants and to Mr. Santosh Kumar for the efforts. We could not address queries due paucity of time and will have one shortly focused on them.
Join other Stroke Survivors, Caregivers and equipment/service providers for encouragement , knowledge sharing and most importantly – hope – via:
Whatsapp Group: https://strokesupport.in/r/wap
Telegram Group : https://t.me/strokesupportgroup
Telegram Channel : https://t.me/strokesupportin
Linkedin : https://www.linkedin.com/company/stroke-support
Facebook Page : https://www.facebook.com/strokesupportindia
Facebook HINDI Page : https://www.facebook.com/strokesupporthindi
Facebook Group : https://www.facebook.com/groups/strokesupportindia
Twitter : https://www.twitter.com/strokesupportin
Instagram : https://www.instagram.com/strokesupportindia
Pinterest : https://in.pinterest.com/strokesupportindia/
YouTube : https://www.youtube.com/c/StrokesupportInIndia