The Body Achieves what the Mind Believes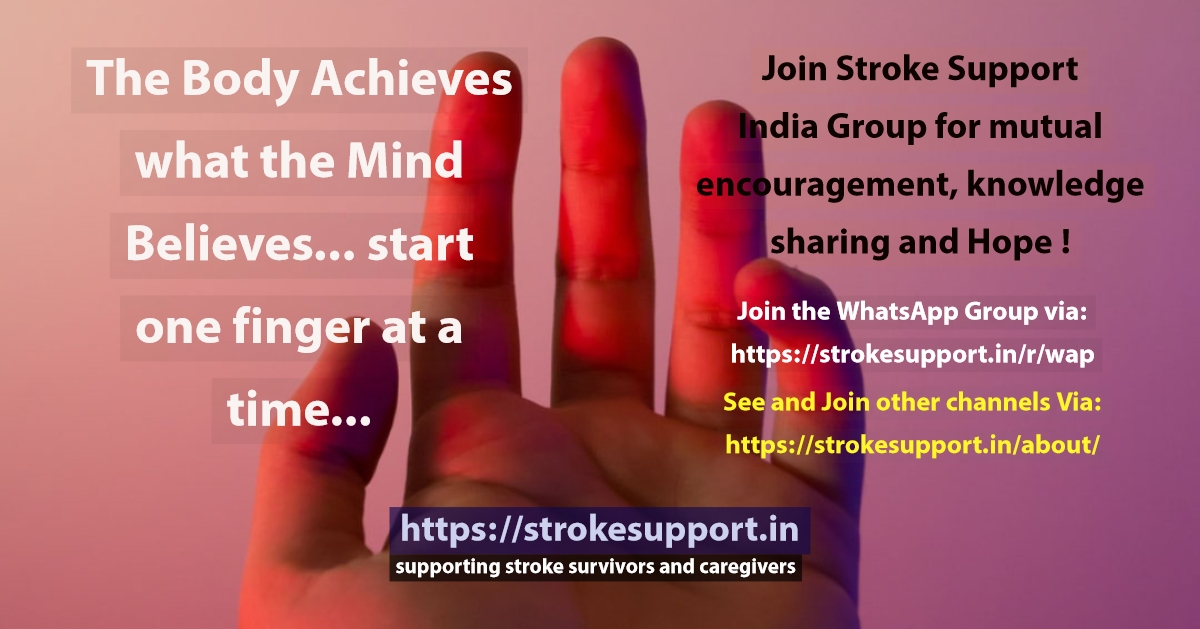 I think willpower and determination is one of the most important factor in stroke recovery. Stroke happens due damage to the brain. Yet if one can think coherently one is on the road to recovery, one step at a time. Start with small steps, the bigger ones will follow.
If you have some thoughts and inspirations that have helped you in your stroke recovery, please put them in the comments below. I will get to them by the by and try to put them as a post like above. Thank you and take care !
Join other Stroke Survivors, Caregivers and equipment/service providers for encouragement , knowledge sharing and most importantly – hope – via:
Whatsapp Group: https://strokesupport.in/r/wap
Telegram Group : https://t.me/strokesupportgroup
Telegram Channel : https://t.me/strokesupportin
Linkedin : https://www.linkedin.com/company/stroke-support
Facebook Page : https://www.facebook.com/strokesupportindia
Facebook Group : https://www.facebook.com/groups/strokesupportindia
Twitter : https://www/twitter.com/strokesupportin
Instagram : https://www.instagram.com/strokesupportindia
Pinterest : https://in.pinterest.com/strokesupportindia/
YouTube : https://www.youtube.com/c/StrokesupportInIndia