Podcasts for Stroke Warriors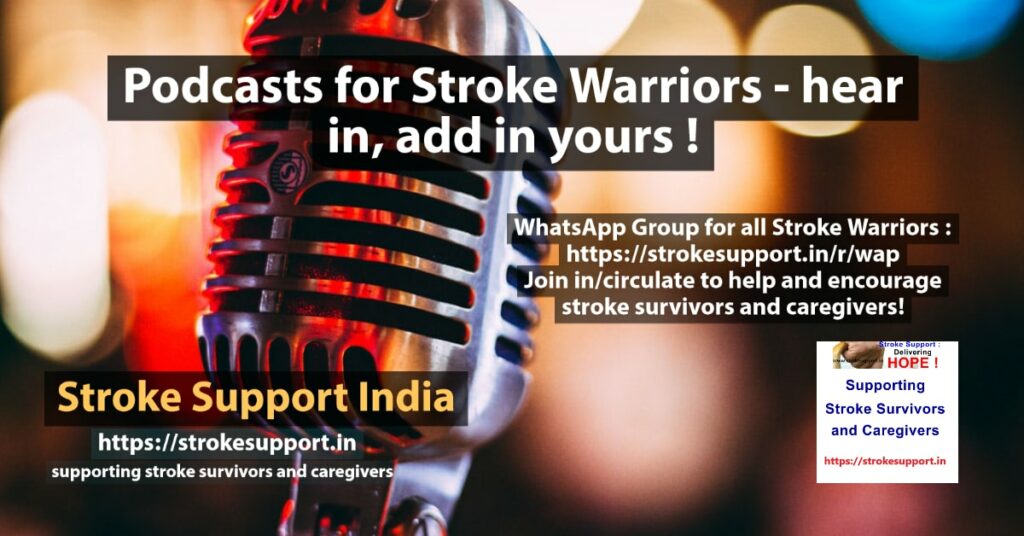 There are a great many podcasts on various aspects of Stroke. These include many excellent Podcasts are by Stroke Warriors and their caregivers, Speech Language Pathologists, Physiotherapists and Psychologists.
Hereunder a compilation of links to some of them.
In case you are aware of any, please provide the links / details in the comments hereunder or via our Publish Here page and I will add them here by the by.
Strokecast
A genx stroke survivor explores rehab, recovery, the frontiers of neuroscience and peeling a banana one-handed.

The Slow Road To Better
This podcast is produced by members of the Stroke Comeback Center in Vienna, Virginia. In each episode members share honest and uplifting stories of how they adapt to life after stroke and brain trauma, and what keeps them going on The Slow Road to Better.

Recovery after Stroke Podcasts
From the Website : Bill Gasiamis experienced three Hemorrhagic strokes in as many years and brain surgery at age 40. Using strategies he discovered through trial and error, he was able to complement his medical treatment and surprise his doctors and occupational therapists with the speed of his recovery.

Enable me Podcast ( on Apple itunes )
This series is from the Stroke Foundation in Australia. They "bring together stroke survivors, health professionals and researchers with practical advice for reclaiming your life after stroke."

This Caregiver Life – Epsiode featuring Tsgoyna-Tanzman
Hosts Jennifer Mackinday & Mary Hahn Ward are long-time caregivers. "This Caregiver Life" podcast explores the journey of caregivers from all walks of life.

Hand in Hand Show
Stroke and TBI bring us together. We launched the Hand in Hand Show to help make the voice of the stroke and TBI (Traumatic Brain Injury) community heard.

Made in India SLP
A podcast aimed at bringing the global Indian SLP community together to make a difference one word and swallow at a time.
Join other Stroke Survivors, Caregivers and equipment/service providers for encouragement , knowledge sharing and most importantly – hope – via:
Whatsapp Group: https://strokesupport.in/r/wap
Telegram Group : https://t.me/strokesupportgroup
Telegram Channel : https://t.me/strokesupportin
Linkedin : https://www.linkedin.com/company/stroke-support
Facebook Page : https://www.facebook.com/strokesupportindia
Facebook HINDI Page : https://www.facebook.com/strokesupporthindi
Facebook Group : https://www.facebook.com/groups/strokesupportindia
Twitter : https://www/twitter.com/strokesupportin
Instagram : https://www.instagram.com/strokesupportindia
Pinterest : https://in.pinterest.com/strokesupportindia/
YouTube : https://www.youtube.com/c/StrokesupportInIndia