The Storm of Stroke- and how to handle it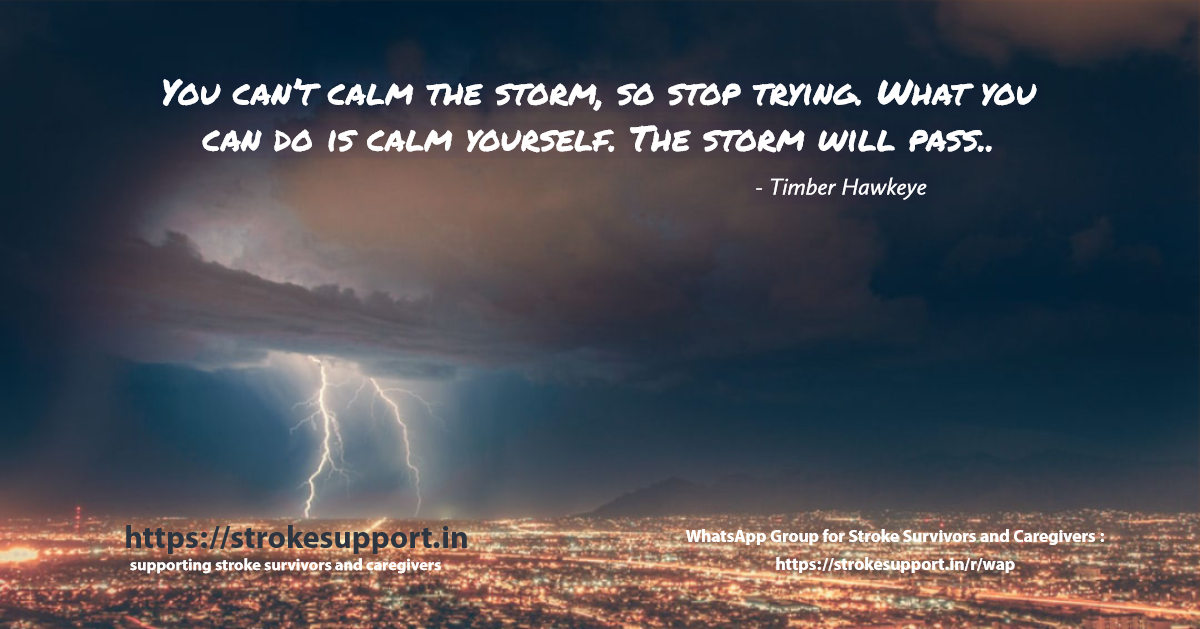 Indeed a stroke is like a storm- one which generally comes totally unexpected and catches everyone unawares. It needs calm- both for the Stroke Survivor as well as the Caregiver – perhaps more from the caregiver- to help the stroke survivor cope and move faster on the road to recovery. This quote puts it nicely. Joining a group of people who have – or are presently – undergoing similar struggles and trials is also a very strong help.
Timber Hawkeye is an Israeli-born born citizen and resident of the United States, best known as the author of Buddhist Boot Camp (HarperCollins Publishers, 2013), and of his memoir: Faithfully Religionless (Hawkeye Publishers, 2016).
Please support petition to increase Stroke Awareness in India.
Find it at :
http://chng.it/pfNcg7nc
CALLING All Stroke Survivors, Caregivers, Physiotherapists, Doctors and any else interested – Join free, non-commercial Global WhatsApp Group for knowledge sharing, support and encouragement via:
https://strokesupport.in/r/wap
Join other Stroke Survivors, Caregivers and equipment/service providers for encouragement , knowledge sharing and most importantly – hope – via:
Whatsapp Group: https://strokesupport.in/r/wap
Telegram Group : https://t.me/strokesupportgroup
Telegram Channel : https://t.me/strokesupportin
Linkedin : https://www.linkedin.com/company/stroke-support
Facebook Page : https://www.facebook.com/strokesupportindia
Facebook HINDI Page : https://www.facebook.com/strokesupporthindi
Facebook Group : https://www.facebook.com/groups/strokesupportindia
Twitter : https://www/twitter.com/strokesupportin
Instagram : https://www.instagram.com/strokesupportindia
Pinterest : https://in.pinterest.com/strokesupportindia/
YouTube : https://www.youtube.com/c/StrokesupportInIndia