Members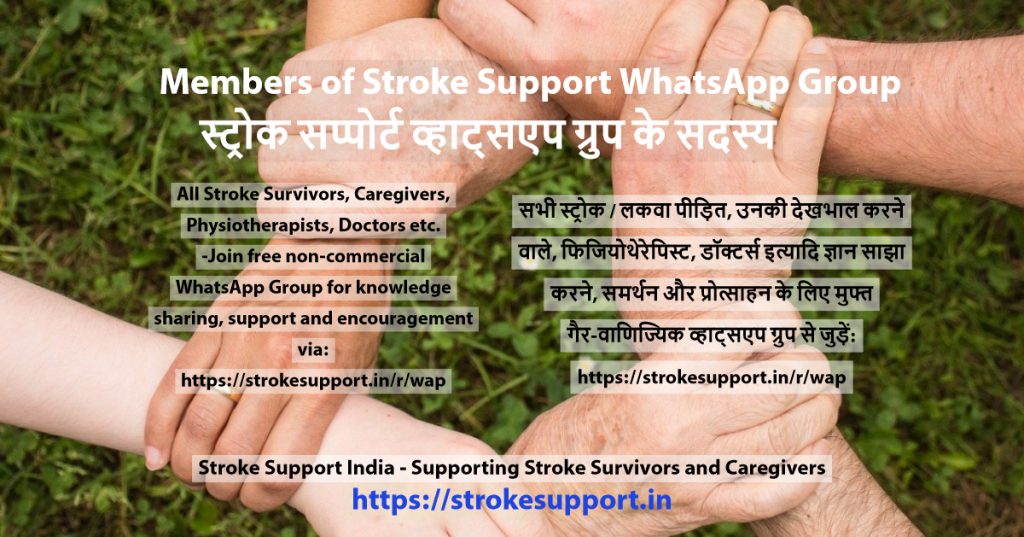 Following are the short detail of present members of Stroke Support WhatsApp Group as provided by them. Hopefully it will help all members know a bit about each other for more effective interactions
If you are a member and wish to change any details herein, please contact Hardeep Sodhi, Group Admin. Similarly, if you leave the Group at any time, please let him know so that your details can be removed here as well. Many thanks.
Name
Location
Stroke Connection
Some Details
Abhay Mane
Caregiver
Father, about 65 years old, suffered a second stroke about November 2019.
Abhay Sodhi
Gurgaon
Caregiver
Group Admin
Bala Tripura Sundari A
Hyderabad
Caregiver
Works with families affected by Dementia, including Vascular Dementia caused by stroke.
Balveer Chandravat
Equipment Provider
Works for a company which made stroke treatment possible till 24 hours from onset of symptoms.
Bongani
South Africa
Caregiver
Wife suffered stroke in December 2019
Dr. Chintvika Patel
Anand, Gujarat
Service Provider
Work at Shree B. G. Patel College of Physiotherapy. Experience in Stroke Support Groups.
Devender Singh
Gurgaon
Caregiver
Daughter suffers from Epilepsy since April 2018 as a consequence of stroke.
Hardeep Sodhi
Greater Noida
Caregiver
Group Admin
Jasdev Maverick Sandhu
Malyasia
Service Provider
Director Marketing, Malaysia Health Travel Council
Jay
London
Caregiver
Mother in law in Ahmedabad suffered from Stroke in December 2019.
K V Ramana
Tirupati
Survivor
Stroke Survivor unable to get Disability Certificate/ UDID.
Mohamed Masry
Egypt
Service Provider
Physiotherapist
Moshe Mark Ittleman
USA
Service Provider
Speech Language Pathologist (SLP) with over 45 years of experience in aphasia therapy. Trains Caregivers , SLPs and aphasia sufferers. On Facebook at 'teachingoftalking'
Neenu Datta
Delhi
Caregiver
Mother suffered from stroke
Neha Gupta
Patna
Caregiver
Mother suffered stroke in Dec. 2019
Pradeep Aggarwal
Delhi
Interested
Raghu
Karnatka
Survivor
Suffered a stroke in 2015. Now 80 % recovered. Exposure to Ayurveda, Pranayama in recovery. Also supports many other survivors.,
Raghunath Menon
Palakkad, Kerala
Survivor
Suffered a stroke in Sep. 2015. Single and stays with 84 years old mother. With strong determination effected recovery. Besides Allopathy, got massive help from Ayurveda ( massage ) and many other people on the Web.
Ramesh Yadav
Delhi
Service Provider
Works for awareness and development of patient care pathway for stroke treatment. May help in creating awareness across India ,Bangladesh, Nepal and srilanka.
Ravideep Ahuja
Delhi
Caregiver
Mother suffered a stroke in 2006 and was bedridden for 6 years till she expired in 2012. During these times saw and experienced sufferings of stroke survivors and their families firsthand. Unfortunately, did not find any stroke support groups at the time.
Richa Dutta
Kolkata
Caregiver
Father suffered a stroke in August 2018 while on a visit to the USA.
S Sivakumar
Hyderabad
Survivor
Suffered a stroke in 2015. With determination and strong efforts, have had good recovery.
Please see my story at www.bheeman.org.
Presently help other stroke survivors too.
Saseendaran Madathil
Tirur
Survivor
Suffered stroke in 2011. Now fully recovered . Was a hotelier earlier and seek suitable employment. Find my detailed profile via : https://strokesupport.in/stroke-survivors/
Shashi Narendran
Chennai
Caregiver
Husband , 62 years old, suffered massive stroke in 2017. Has right hemiplegia and aphasia. Seeks good speech therapy.
Shashidhar K
Service Provider
Work with families and persons affected by various types of dementia, including stroke related form - Vascular Dementia.
Sonal Chitnis
Pune
Service Provider
Speech language pathologist , specialized in Neurocognitive communication disorders. Asst professor SLP at Bharati Vidyapeeth school of audiology speech language pathology, Pune & Consultant, Neurology dept Deenanath Mangeshkar hospital, Pune. Also volunteer & coordinate Aphasia Stroke website. Details at www.aphasiastrokeindia.com
Srinivas Pyati
Pune
Survivor
Need job opportunity.work from home options
Dr. Sudheer Ambekar
Mumbai
Service Provider
Neurosurgeon specializing in treatment of acute stroke and brain tumors. Work at Jaslok Hospital and Research Centre, Mumbai
Susham Lata
Interested
To join the Group please see hereunder :
English:
All Stroke Survivors, Caregivers, Physiotherapists, Doctors etc. -Join free non-commercial WhatsApp Group for knowledge sharing, support and encouragement via:
https://strokesupport.in/r/wap
Hindi:
सभी स्ट्रोक / लकवा पीड़ित, उनकी देखभाल करने वाले, फिजियोथेरेपिस्ट, डॉक्टर्स इत्यादि  ज्ञान साझा करने, समर्थन और प्रोत्साहन के लिए मुफ्त गैर-वाणिज्यिक व्हाट्सएप ग्रुप से जुड़ें:
https://strokesupport.in/r/wap
Punjabi:
ਸਾਰੇ ਸ੍ਟ੍ਰੋਕ ਰੋਗੀ , ਦੇਖਬਾਹਲ ਕਰਨ ਵਾਲੇ , ਫਿਜ਼ੀਓਥੈਰਾਪਿਸਟਾਂ, ਡਾਕਟਰਾਂ ਆਦਿ ਗਿਆਨ ਸਾਂਝਾ ਕਰਨ ਅਤੇ ਪ੍ਰੋਤਸਾਹਨ ਲਈ ਮੁਫਤ ਗੈਰ-ਵਪਾਰਕ ਵਟਸਐਪ ਸਮੂਹ ਵਿੱਚ ਸ਼ਾਮਲ ਹੋਵੋ :
https://strokesupport.in/r/wap
The main communication language in the Group presently is English.
Your help in translating the above in other languages will be highly appreciated. Please use the Contact Form to send us the same. Many thanks!
Join other Stroke Survivors, Caregivers and equipment/service providers for encouragement , knowledge sharing and most importantly – hope – via:
Whatsapp Group: https://strokesupport.in/r/wap
Telegram Group : https://t.me/strokesupportgroup
Telegram Channel : https://t.me/strokesupportin
Linkedin : https://www.linkedin.com/company/stroke-support
Facebook Page : https://www.facebook.com/strokesupportindia
Facebook Group : https://www.facebook.com/groups/strokesupportindia
Twitter : https://www/twitter.com/strokesupportin
Instagram : https://www.instagram.com/strokesupportindia