TTD Ayurvedic Hospital for stroke rehabilitation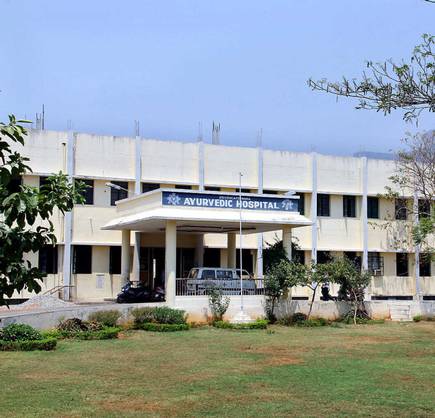 Free Stroke Rehabilitation Treatment at TTD Hospital
Stroke rehabilitation relies mainly on physiotherapy.
TTD Ayurvedic Hospital in Tirupathi offers free treatment that may help stroke survivors. The treatment is based on panchakarma treatment ( an Indian traditional treatment ) including massage.
As of time of this post , it is totally free of cost viz., bed, massage (including oils), medicines & food( to attendants too ).
Tirumala Tirupati Devasthanams (TTD) is the organization running this Hospital. It is also known as Sri Venkateswara Ayurvedic Hospital.
Address : Sri Padmavati Mahila Visvavidyalayam, Tirupati, Andhra Pradesh 517507
Phone : 0877 226 4411
Search on Google for latest information, or click on the following link :
Sri Venkateswara Ayurvedic Hospital

Here is a short video on the same :
Thanks to Sreenivasa Durbha, member of our WhatsApp Group to bring this to my notice.
If you know of similar institutions – anywhere in the World- that offer stroke rehabilitation services at highly subsidized / free rates, please DO provide information in the comments hereunder and we will feature them at earliest. Thank you !
Join other Stroke Survivors, Caregivers and equipment/service providers for encouragement , knowledge sharing and most importantly – hope – via:
Whatsapp Group: https://strokesupport.in/r/wap
Telegram Group : https://t.me/strokesupportgroup
Telegram Channel : https://t.me/strokesupportin
Linkedin : https://www.linkedin.com/company/stroke-support
Facebook Page : https://www.facebook.com/strokesupportindia
Facebook HINDI Page : https://www.facebook.com/strokesupporthindi
Facebook Group : https://www.facebook.com/groups/strokesupportindia
Twitter : https://www.twitter.com/strokesupportin
Instagram : https://www.instagram.com/strokesupportindia
Pinterest : https://in.pinterest.com/strokesupportindia/
YouTube : https://www.youtube.com/c/StrokesupportInIndia