Volunteers needed !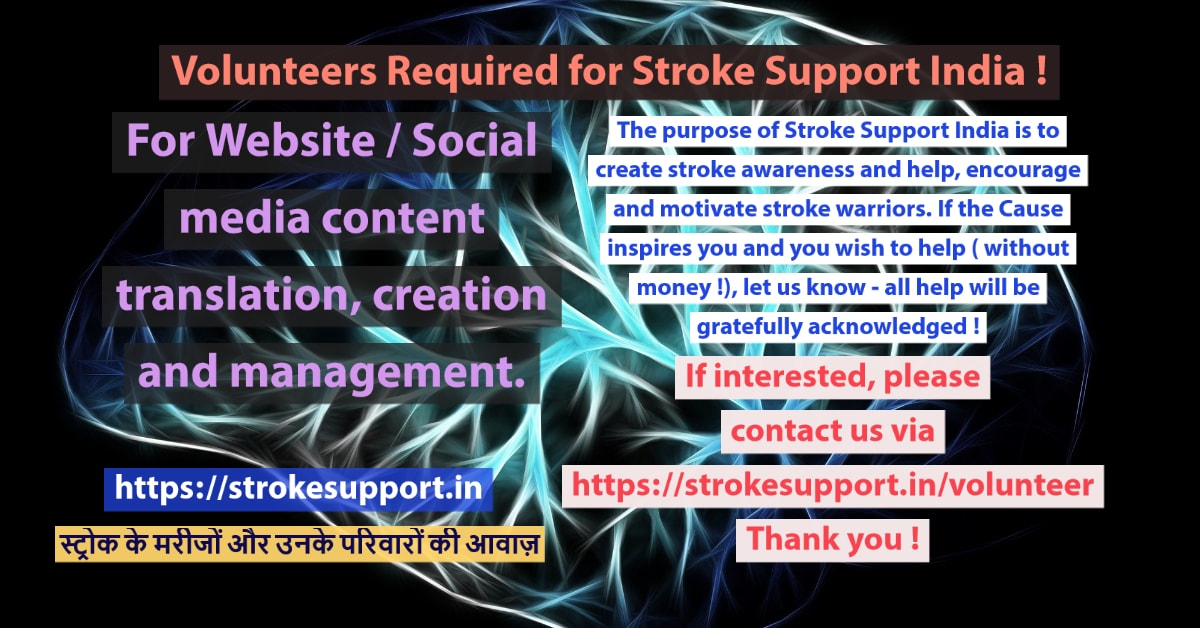 Volunteers Required for Stroke Support India !
The purpose of Stroke Support India is to create stroke awareness and help, encourage and motivate stroke warriors. If the Cause inspires you and you wish to help ( without money !), let us know – all help will be gratefully acknowledged !
Presently we seek volunteers for Website / Social media content translation, creation and management. If your native language is NOT English but another Indian one, you have a computer and are computer savvy, and are prepared to devote about 1-3 hours every week or more at your convenience, please fill the form hereunder. In the message field please say that you'd be happy to volunteer for Content translation etc., and your native language ( mother-tongue). I will get back to you. Please do NOT forget to provide your location and phone number !
All other inputs and training will be provided by us as needed.
Anyone else as well who can help the cause in any manner whatsoever is most welcome to fill the form hereunder.
All are requested to elaborate a little where asked as to how they can help the cause for our better understanding. Thank you !
Join other Stroke Survivors, Caregivers and equipment/service providers for encouragement , knowledge sharing and most importantly – hope – via:
Whatsapp Group: https://strokesupport.in/r/wap
Telegram Group : https://t.me/strokesupportgroup
Telegram Channel : https://t.me/strokesupportin
Linkedin : https://www.linkedin.com/company/stroke-support
Facebook Page : https://www.facebook.com/strokesupportindia
Facebook HINDI Page : https://www.facebook.com/strokesupporthindi
Facebook Group : https://www.facebook.com/groups/strokesupportindia
Twitter : https://www.twitter.com/strokesupportin
Instagram : https://www.instagram.com/strokesupportindia
Pinterest : https://in.pinterest.com/strokesupportindia/
YouTube : https://www.youtube.com/c/StrokesupportInIndia