Hindi Stroke Important Information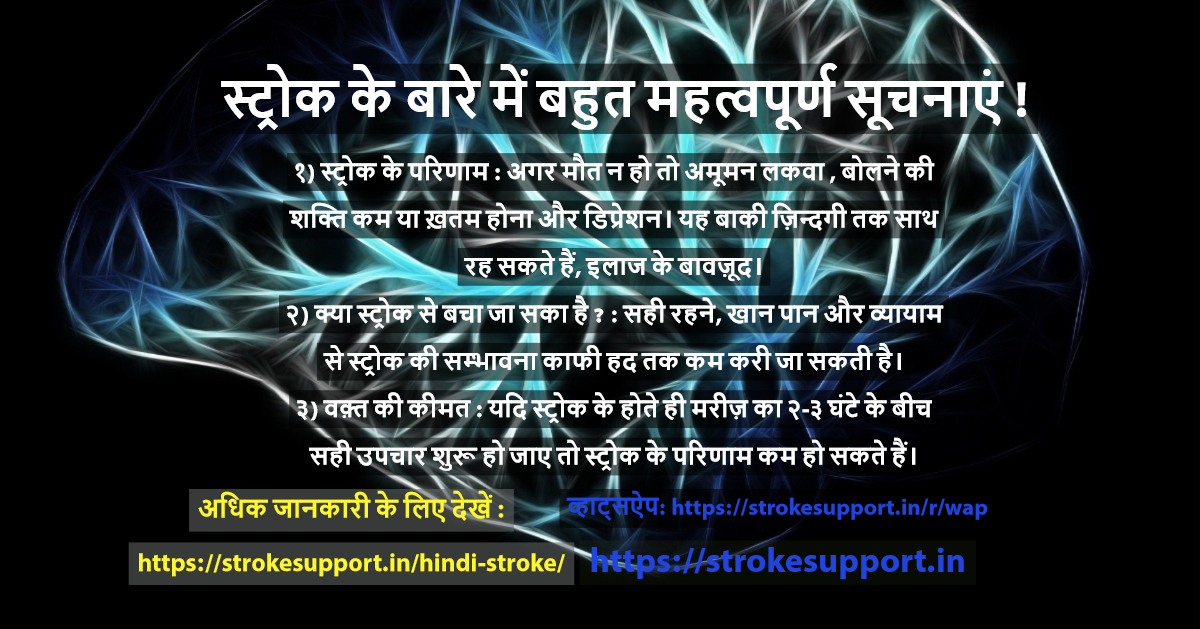 Very important information about Stroke in Hindi is as under and in attached document. It may not display on all computers unless proper fonts ( Mangal, for example ) are enabled.
Please click here to download a Hindi Language Document including information as under.
स्ट्रोक के बारे में बहुत महत्वपूर्ण सूचनाएं
१) स्ट्रोक के परिणाम : अगर मौत न हो तो अमूमन लकवा , बोलने की शक्ति कम या ख़तम होना और डिप्रेशन। यह बाकी ज़िन्दगी तक साथ रह सकते हैं, इलाज के बावज़ूद।
२) क्या स्ट्रोक से बचा जा सका है ? : सही रहने, खान पान और व्यायाम से स्ट्रोक की सम्भावना काफी हद तक कम करी जा सकती है।
३) वक़्त की कीमत : यदि स्ट्रोक के होते ही मरीज़ का २-३ घंटे के बीच सही उपचार शुरू हो जाए तो स्ट्रोक के परिणाम कम हो सकते हैं।
इसलिए ज़रूरी है की हम सब को स्ट्रोक के बारे में और उसके शुरूआती लक्ष्णोँ के बारे में जानकारी हो। हालाँकि तक़रीबन हर दो सेकंड में किसी व्यक्ति को स्ट्रोक होता है , फिर भी भारत में स्ट्रोक के लिए सार्वजनिक जागरूकता के साथ-साथ उसके निवारण के लिए कार्यक्रमों की बहुत कमी है।
हमने भारत को अधिक स्ट्रोक अवगत कराने और स्ट्रोक कम करने के कार्यक्रमों के अधिक आयोजन के लिए एक याचिका पर हस्ताक्षर किए हैं। आप भी अधिक पढ़ सकते हैं और याचिका पर हस्ताक्षर कर सकते हैं:
आपके समर्थन से बहुत मदद मिलेगी। कृपया इस संदेश को अपने सभी सोशल मीडिया चैनलों और कहीं और भी साझा करें जहाँ आप कर सकते हैं। यह एक बड़ी मदद होगी! बहुत बहुत धन्यवाद !
नोट : आह्वान सभी भारतीय स्ट्रोक पीड़ितों, देखभाल करने वालों , फिजियोथेरेपिस्ट, डॉक्टर्स इत्यादि का : ज्ञान साझा करने, सहायता और प्रोत्साहन के लिए मुफ्त गैर-वाणिज्यिक व्हाट्सएप ग्रुप से जुड़ें:
https://strokesupport.in/r/wap
अगर आप स्ट्रोक के बारे में और जानना चाहते हैं तो हमारी वेबसाइट है :
कृपया इस हिंदी डॉक्यूमेंट एवं और जानकारी को डौन्लोड करने के लिए यहाँ क्लिक करें।
Join other Stroke Survivors, Caregivers and equipment/service providers for encouragement , knowledge sharing and most importantly – hope – via:
Whatsapp Group: https://strokesupport.in/r/wap
Telegram Group : https://t.me/strokesupportgroup
Telegram Channel : https://t.me/strokesupportin
Linkedin : https://www.linkedin.com/company/stroke-support
Facebook Page : https://www.facebook.com/strokesupportindia
Facebook Group : https://www.facebook.com/groups/strokesupportindia
Twitter : https://www/twitter.com/strokesupportin
Instagram : https://www.instagram.com/strokesupportindia
Pinterest : https://in.pinterest.com/strokesupportindia/
YouTube : https://www.youtube.com/c/StrokesupportInIndia