Just TEN factors explain NINETY Percent of Strokes !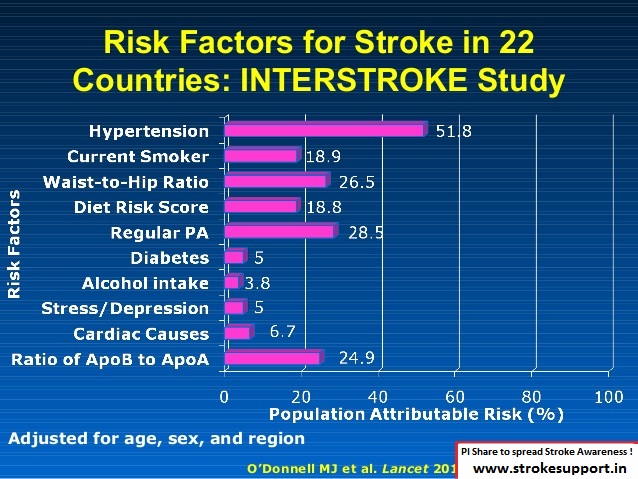 While Stroke can happen to any at anytime – sometimes for factors which remain a puzzle -studies are increasingly establishing some very dominant causal factors for adults.
A study conducted in 2016 looked at more than 27,000 people in 32 countries – many of which are the so called LMIC – Low to Middle Income Countries ( Which includes India ). These results are the conclusion of almost eight years of study and work.
The Study conclusively established that the following factors explained 90 % of the Strokes in the research group.
Hypertension ( aka high Blood Pressure )
Lipids ( Natural fats such as Cholesterol )
Smoking
Physical inactivity
Abdominal Obesity
Cardiac Causes
Diet
Alcohol
Diabetes Mellitus ( high blood sugar )and
Psychosocial Factors
Of these, Hypertension – High Blood Pressure – was determined to be the most significant risk factor.
Many of these factors – physical inactivity and abdominal obesity, for example , have a direct correlation to one another. And MANY – are in our control ! The study shows that the number of strokes would be practically cut in half (48%) if hypertension was eliminated; trimmed by more than a third (36%) if people were physically active; and shaved by almost one fifth (19%) if they had better diets.
Hence, very simple but disciplined lifestyle changes can lead to a much lesser risk of this terrible malaise. For more information and some simple tips you may see :
https://strokesupport.in/stroke/lifestyle-changes-to-prevent-stroke/
 Precaution is MUCH better than Cure – particularly for Stroke. Hence please monitor yourself and your dear ones on these factors closely as well as share to others !
Join other Stroke Survivors, Caregivers and equipment/service providers for encouragement , knowledge sharing and most importantly – hope – via:
Whatsapp Group: https://strokesupport.in/r/wap
Telegram Group : https://t.me/strokesupportgroup
Telegram Channel : https://t.me/strokesupportin
Linkedin : https://www.linkedin.com/company/stroke-support
Facebook Page : https://www.facebook.com/strokesupportindia
Facebook Group : https://www.facebook.com/groups/strokesupportindia
Twitter : https://www/twitter.com/strokesupportin
Instagram : https://www.instagram.com/strokesupportindia